Warning
- Read at your own risk. It's a long one!
Since
I know that not everyone loves Disney World (I know I was quite shocked when I found this out myself) I decided to start updating on my huge Europe trip coming up. Don't worry Disney fans, another continent won't stop me from getting my Disney fix. This trip will include some Disney Magic as well. I know, 2010 is like Disney overload & I'm enjoying every minute of it! We will be traveling September 13 - October 2nd. We will be hitting quite a few places, so I'll get into that in a little bit. I will be traveling with my parents, who are taking this trip as their 40th Wedding Anniversary Trip. I am tagging along. Actually, I had everything to do with this trip, but I wouldn't go alone, so they're tagging along. This trip has been in the making for over a year. I have been/will be doing all the planning for this trip.
Now
for the details and how this trip came to be. I found myself with quite a bit of extra DVC points that had to be used up back in December of 2008. So after looking into some options I found an incredible deal to use my points with. Disney Cruise Line is doing Mediterranean cruises over the summer of 2010. In order to do that, they have to get one of their ships, the Disney Magic, over to the Mediterranean and then at the end of the summer back home to Port Canaveral, Fl. Moving these ships like this in the cruising world is called, Transatlantic Cruises. Well, Transatlantic cruises are not very popular, due to many facts. For one, they are long, usually 10-14 days and sometimes even longer. On top of that, only seasoned cruisers usually attempt them, because you never know what type of seas you'll run into. (or should I say sail into?) Also, for quite a few of the days you're out in the middle of nowhere with not even a bird or insect insight. Being the seasoned cruisers that we are & how low the points were to sail, we booked it! Here is the itinerary for our Transatlantic Cruise: (our cruise is the yellow line)

Disney Magic - 14-Night Transatlantic, Barcelona to Port Canaveral
September 18, 2010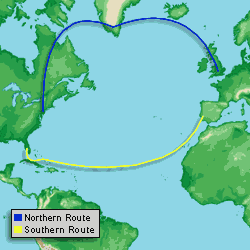 Day
Port of Call
Arrive
Depart

Sat, Sep 18

Barcelona, Spain

-

09:30 pm

Sun, Sep 19

At Sea

-

-

Mon, Sep 20

Gibraltar

07:30 am

06:00 pm

Tue, Sep 21

At Sea

-

-

Wed, Sep 22

Funchal (Madeira), Portugal

10:30 am

07:15 pm

Thu, Sep 23

At Sea

-

-

Fri, Sep 24

At Sea

-

-

Sat, Sep 25

At Sea

-

-

Sun, Sep 26

At Sea

-

-

Mon, Sep 27

At Sea

-

-

Tue, Sep 28

St. Maarten, Leeward Islands

07:30 am

06:00 pm

Wed, Sep 29

Tortola, British Virgin Islands

07:30 am

04:00 pm

Thu, Sep 30

At Sea

-

-

Fri, Oct 1

Castaway Cay

11:30 am

05:00 pm

Sat, Oct 2

Port Canaveral, Florida

07:35 am

-
Notice
those five days straight at sea. Those five days we will be in the middle of the Atlantic Ocean with no land in sight. You may be wondering, "What is she thinking?!". I am too. Five days straight of nothing but ocean & my parents, my 60+ year old parents. It's gonna be five days of, "Don, where'd you put the pool bag?" "I didn't touch the pool bag, Rose." "Well, I don't have the pool bag." "Well, I don't have it. Where's the last place you had it?" "I gave it to you." "No, you didn't." "Oh, here it is... on my shoulder." "You know Rose!" This is why I splurged & got my own cabin! I love my parents & there's no one else I'd rather be on this trip with, BUT they do make you go a little nutty at times. So that is part one of this trip, the bigger part.
Now
for part two. After we booked this cruise. The next step was figuring out how to get over to Barcelona, where we'll be taking the ship from. Looking into the airfare was shocking. Direct flights from JFK to Barcelona was painful, in the $2,500 each range! Now up to this point the trip isn't costing us anything but a $95 dollar booking fee- good ol' DVC. Still, to spend that amount of money on the airfare was outrageous. So I got over my prima donna phase (It comes out every now & then, I know shocking.) & began to look into the worst thing ever on the planet... connecting flights. Connecting flight are the worst, but international connecting flights are near torturous. Looking into the flights I found flying into Dublin, Ireland was the best. Then I found that if I booked a flight to Dublin and then booked a separate flight from Dublin to Barcelona on another airline it would only be about another $200. Score! The best rates I could find were to fly JFK to Dublin on Delta. Then Dublin to Barcelona on Aer Lingus, a cheap, Irish government owned airlines. I wonder if they have segregated seats, like the left side of the plane is for their version of Democrats & the right is for their version of Republicans? Gotta check into that... don't want to be on the wrong side. Anyhow, we had the flights figured out and decided to book the flights quite a few hours apart, so that we could take a quick tour of Dublin. After a little bit of research, we're staying in Dublin for 3 nights. That's quite the layover, I know. There is just so much to see in Ireland & we knew we'd probably never go back, since there is so much more to see in the world, that we decided to stay a few days & see Ireland's highlights. (Wow, talk about a run-on sentence. Mrs. New, my 5th grade teacher, would be irate!) So now we are flying out of JFK, nonstop (my inner prima donna won, but at a cheap rate so "we're" both happy), on Sept 13 & staying in Dublin Sept 14th-17th. Next, we always arrive for a cruise the day before. It's too stressful to fly in the day of departure, 'cause a delayed flight could mean your baggage not making it onto the ship, or even YOU not making it on the ship. So we'll fly out of Dublin on Sept 17th & arrive in Barcelona at 10:15am. We'll spend that day & night in Barcelona doing some sightseeing, then the next day get on our Home Away From Home for the next 14 days, the Disney Magic.
So
that's a quick rundown of the huge Europe trip for this September. Don't worry, I will be giving MUCH more details in the coming months. Then once there, this will be my main form of communication to back home. Hope you've enjoyed my random rambling so far. If you have & would like to hear more of it, make sure you click to follow me over on the right.
'Til next time... Huckadoo!